---
Fire Glass East was opened in August 2013 as the fourth branch within the Fire Glass group. Based in Heanor, Derbyshire, we are easily accessible from most major routes. Only a 15 minute drive from the M1, or 17 minutes off the A38. Covering a large area between Barton-upto-Humber down to Wellingborough and Peterborough and as far east as Skegness.
---
We as a group take training as an essential part to the on-going development of individuals and supporting improved company performance. On-the-job development supports individuals to learn their own jobs to a level of expertise where they can support the development of others. With over 60 years of experience, our operators are multi-skilled and so broaden their knowledge and optimise production flexibility. Fireglass East has on-going training in the form of NVQ assessments, giving our employees continued support and targets.
With our in-house toughening plant we are able to offer fast turnaround of both toughened units and Firesafe 30; our own modified fire rated product. Firesafe 30 is an advanced toughened fire-resistant class 'A' glass for use as a basic integrity-only barrier.
We supply a large array of glass including:-
30/0, 60/0 and wire fire rated glass
30/30, 60/30, 60/60 insulated fire rated glass
Fire screens
Fire rated double glazed units
Float, laminated and toughened glass
Patterned glass
Processed glass
Low Iron Glass
Acoustic and other specialist glass
Double glazed units
Mirrors (silvered glass)
Our continual investment in state-of-the-art machinery, the dedicated toughening and processing machinery, in-house stock of fire rated glass and the attention to detail we strive to deliver, day-in day-out means, we can offer you, our customer, the very best option available each and every time.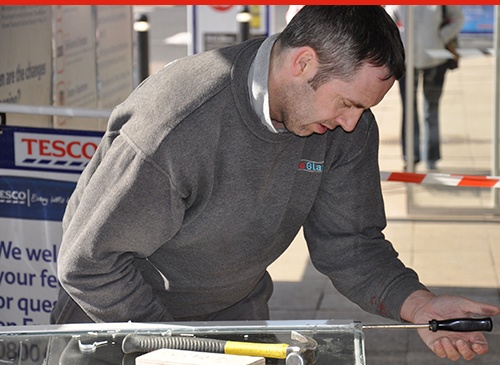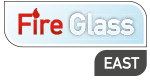 FIRE GLASS EAST – DERBY
Unit 8 Slack Lane, Heanor, Derbyshire, DE75 7GX
Tel: 01773 712 920 Fax: 01773 712 920
Email: info@fireglassuk.com
Contact: Lee Johnson, Branch Manager

"Always quick to respond to questions,
helpful with queries, better than other
suppliers, 100%"
Chris Daughton
Materials Controller IDSL