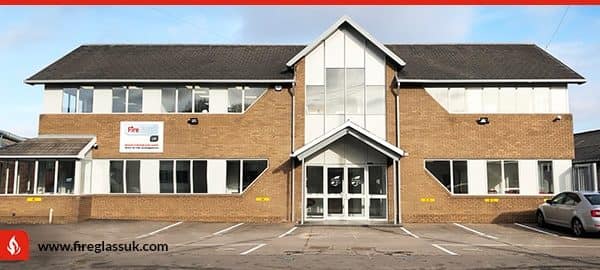 INCREASED DEMAND MEANS BIGGER PREMISES FOR FIRE GLASS UK
Fire Glass UK has responded to the increasing demand for fire rated and specialist glass products by relocating its Head Office and UK Branch into significantly larger premises.
The new 30,200 sq ft factory and offices will allow us to continue to strive towards excellence and keep our focus on being the UK's only choice for fire rated glass and glazing. With close links to the M5 and M6 motorway network the new factory will help improve the already excellent level of service Fire Glass UK provides to its customers.
"The new factory in Oldbury is a huge step forward for the business," says Sean Haynes, Managing Director. "It is a key part of our ongoing strategy to continue to be the UK's only choice for fire rated and other specialty glass and glazing solutions and this expansion will allow us to do just that and ensure that all our products are manufactured to the highest of quality standards.
The move to larger premises has enabled us to invest in further equipment and machinery, and the addition of a second Bottero Cutting Table will allow us to meet customer demands whilst investment elsewhere ensures that we are keeping up to date with the latest technology. We have also invested in facilities for our staff and the new layout of the premises has helped improve both goods inwards and outwards, these are now streamlined to maximise efficiency.
Achieving our new ISO 9001:2015 accreditations is good news for our customers, it means we have to demonstrate our ability to consistently provide products and services that meet customer and applicable statutory and regulatory requirements, which will enhance customer satisfaction through the effective application of the system".
---
Please make a note of our new address:
Fire Glass UK, 24–26 Hainge Road, Tividale, Oldbury, West Midlands B69 2NH.
Tel: 0121 521 2180 Fax: 0121 521 2181 Email: info@fireglassuk.com www.fireglassuk.com
Or use the link to find us on google maps.