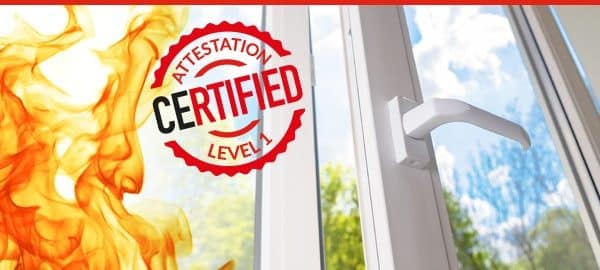 Attestation Level 1
What is Attestation Level 1
Attestation level 1 (Attestation of Conformity (AoC)) is a declaration of performance required by those who manufacture fire resistant glass in IGUs to confirm compliance with the relevant standards and that all manufactured products will carry the relevant CE Mark. The declaration of performance relates to the essential characteristics of the manufactured or processed product and includes a declaration in relation to factory production control and the testing of sample products. The accreditation of Attestation Level 1 confirms consistency of the product's performance, initial inspection of the manufacturing facility and factory production control and continuous assessment and evaluation of factory production control.
CE Marking
This demonstrates that a product complies with the relevant European standards (EN) relating to the type of product in question. All the products supplied and manufactured by Fire Glass UK Limited carry the required CE Mark as a declaration of performance and compliance with those relevant standards.
What does this mean for our customers?
Fire Glass UK are certified to manufacture fire glass units to Attestation Level 1, so you can rest assured that our fire resistant IGUs are manufactured to the highest safety standards every time with certified consistency. You can't cut corners with a safety, that is why Fire Glass UK keep up to date with certification and accreditation, proving we are dedicated to providing our customers with products that meet safety regulations. It's part of the Fire Glass SQS Promise: Safety, Quality, Service.