---
Fire Glass North was opened in 2010 becoming the second branch in the Fire Glass UK group of companies. Our depot is based on Wardley Industrial Estate, which is on the outskirts of Manchester City Centre. We have easy access to the M60 ring road and the connecting motorways such as the M62, M61 and the M6.
---
Here at Fire Glass North, we have a dedicated group of staff who are continually trained to the highest of standards and strive to meet our customers needs. Our office staff have great knowledge in fire rated glass, which is second to none. So we can offer technical advice on different glass types to the supply and fit industry.
We have a dedicated team of delivery drivers who deliver our products mainly across the north of England, taking the time and effort to make sure our products are of the highest standard before leaving the depot. Fire Glass North is an equal opportunities employer with our staff undertaking training courses such as NVQ assessments.
We have a Bottero laminate cutting table which enables us to cut products we stock such as 6.4 laminated to 16.8 Optiphon Laminated glass and 30/0 fire rated products. we also have a Putsch vertical water jet saw which allows us to cut thicker fire rated products. We are in the process of installing a new vertical saw which will increase our capacity as a branch and enable us to meet the demands of our customers quicker.
We can supply glass with polished edges using our Bottero straight Line edging machine ensuring a quality finish on butt jointed edges plus 4mm/6mm silvered glass.
At Fire Glass North we produce non fire rated and fire rated double glazed units made to your specific needs, we are also able to offer customers a supply and fit service with our expert team of Glaziers.
We supply a large array of glass including:-
30/0, 60/0 clear/wire fire rated glass
30/30, 60/30, 60/60 insulated fire rated glass
Fire screens
Fire rated double glazed units
Non fire rated double glazed units
All laminated products from 6.4mm – 16.8mm
Acoustic and other specialist glass
Mirrors (silvered glass)
Processed edges.
Our continual investment in new machinery along with the extensive range of glass we stock this enables us to service our customers every need as well as giving support and technical advice which puts FireglassUK at the forefront of the glass supply industry.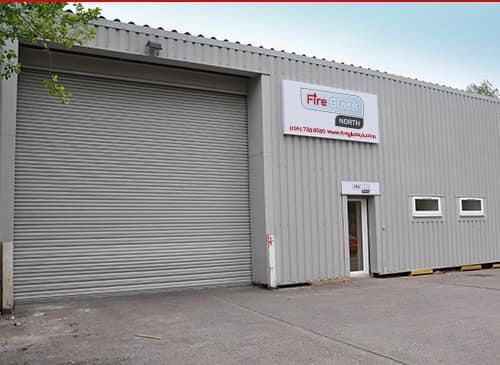 FIRE GLASS NORTH – MANCHESTER
Units 3–5, Wardley Business Park, Shield Drive, Worsley, Manchester M28 2QB
Tel: 0161 728 8080 Fax: 0161 728 8081
Email: info@fireglassuk.com
Contact: Brian Pearson, Branch Manager

"Always quick to respond to questions,
helpful with queries, better than other
suppliers, 100%"
Chris Daughton
Materials Controller IDSL