Fire Glass UK offers a full
service from design through
to installation for any project
---
With our in-depth knowledge of specialist glass we provide a supply and fit service for fire rated, safety, acoustic and other specialist glass throughout the UK; as well as a
general glass and glazing service.
We work alongside Architects and other parties from conception to completion; providing a wealth of knowledge and experience within the field. Our expert installation team will work closely with contractors and clients as part of the project team to ensure that all
products are installed correctly, on time and to specification.
We offer technical advice on installation and undertake site surveys and inspections. All
our fitters are experienced in glazing and fitting specialist glass; including fire rated screens. Our glaziers/fitters are experienced in site work and have the relevant CSCS cards. Risk
assessments and method statements are issued prior to commencement on site and all work is done to the FIRAS certification standard. Whatever stage you are at with your
project, from feasibility, estimating or already on site – we are happy to help!
Why use us?
Site survey and inspection service
High quality glazing installation
Technical advice
Health and safety support
CSCS certified
Specialists in fire rated and other specialist glass
National coverage
FIRAS accredited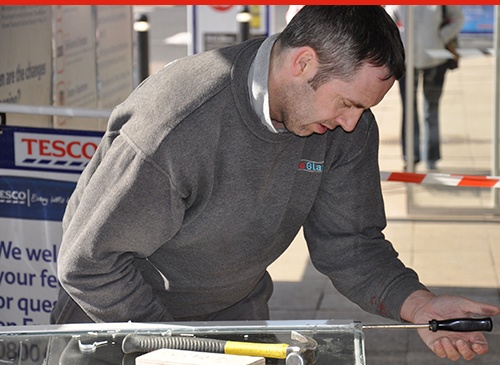 For more information about our products and services, please give us a call us on 0121 667 9089 or email:
info@fireglassuk.com
---

FIRAS Certification
FIRAS certification has been at the forefront of improving standards in the installation of fire protection products and systems since 1994. It benefits the construction industry and the clients whose buildings have been protected by FIRAS certified contractors.
FIRAS certification provides assurance to the construction industry and end-users that if
a FIRAS certified contractor is appointed, the work will be carried out correctly, in
accordance with industry standards and manufacturer requirements. The scheme is a mark of competency in the installation of fire protection products and systems and is vital to
achieving the protection required.
---