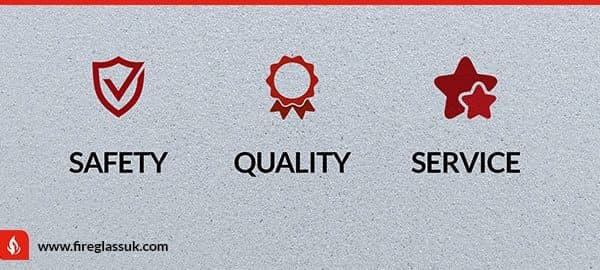 SQS: THE FIRE GLASS PROMISE
At Fire Glass UK, we set our customer satisfaction goals on three key areas: Safety, Quality and Service. SQS is the winning formula for the 'Fire Glass Promise' and defines our commitment to customers. 
SAFETY
We understand that safety is the key factor that customers look for when deciding on what product to use. Commercial pressures on a project do not mean that safety or design need to be compromised: we offer a wide product range at competitive prices and only stock products that fully meet regulation and fire safety standards.
We are Certifire accredited and provide full test evidence for all products (including our own). Products are tested to ensure they meet all certification requirements and we work with our customers as part of our fire test programme in developing products and expanding existing evidence where possible. All our tests are carried out by a certified independent laboratory in full compliance with testing standards to ensure that the correct fire rating is applied.
We are FIRAS accredited for the installation of fire rated glass meaning that our customers are assured that the glazing systems used are fully compliant with the relevant test evidence and industry standards. All work carried out is quality assured under the FIRAS scheme giving our installation customers confidence that their chosen product will be installed correctly and provide the fire protection specified.
We are also CHAS and Constructionline accredited which means that our staff provide the highest quality of workmanship on site whilst being fully compliant with all health and safety regulations.
At Fire Glass, safety comes as standard and we offer technical advice and support to all our customers enabling an informed choice and full peace of mind under the Fire Glass Promise.
QUALITY
Companies who put safety first tend to produce higher quality products. At Fire Glass, we believe that a safe workplace is a more efficient one. Our staff work in a clear and organised environment, enabling them to focus on the quality of their work. We believe in quality over quantity and we know that a quality product (and excellent service) will naturally lead to customer loyalty and an increase in sales.
Our commitment to quality is actively demonstrated by our bespoke Integrated Management System which is continually audited to improve our processes and procedures; ensuring all standards, accreditations and certifications that we hold are met or exceeded. We hold ISO 14001:2015 and ISO 9001:2015 and CPR for EN 1279 and 1250. We are also already working towards the new ISO 45001 ready for its introduction later this year.
Our recent move to larger premises has helped create a dedicated area for quality control and all products are checked thoroughly before transporting. We also offer our customers a choice of how and where their product is delivered.
Our fire-rated IGUs are certified to Attestation Level 1 and our customers can be assured of a quality product.
Quality comes as standard under the Fire Glass Promise, all processes are reviewed and monitored to ensure consistency and we keep detailed quality control records for our own use and use by our customers if needed.
SERVICE
Our customers do not just buy products from Fire Glass, they buy into our commitment to them as valued customers. Our service starts right from the initial contact in helping customers select the right glass for their next project, offering technical advice supported by our own test evidence along with site surveys and inspections.
We strive for excellence in all areas of our business, especially customer service. We have a team of dedicated, experienced staff who provide a service that responds to customers' needs making us the UK's only choice for fire rated and specialist glass and glazing.
Customers may come to us for our price but they stay for our customer service.
Don't just take our word for it: our CSQ data shows an average feedback score of above 95% year-to-date rating us as either 'good' or 'excellent' across all areas: responsiveness, professionalism, technical support, product quality, delivery, competitiveness and overall service. Integrity goes a long way and our customers know that we are a company they can trust – we work with them and share their values.
Going the 'extra mile' for our customers comes as standard under the Fire Glass Promise and we put our customers' needs at the forefront of everything we do.
Whether you are thinking of fire rated or other specialist glass the answer is always Fire Glass UK.
We can deliver certain products next day, with free delivery from our five well-stocked nationwide branches.
SQS: The Fire Glass Promise
Let us help you on your next project.
Fire Glass UK, 24–26 Hainge Road, Tividale, Oldbury, West Midlands B69 2NH. Tel: 0121 521 2180 Fax: 0121 521 2181 Email: info@fireglassuk.com www.fireglassuk.com
Find us on google maps. Please connect with us on Twitter for more news and offers.