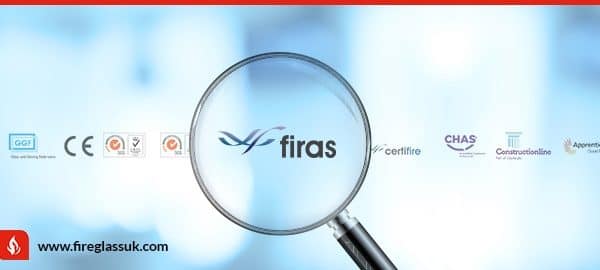 FIRAS: THE MARK OF EXPERT INSTALLATIONS
Our FIRAS certification provides assurance that all work is carried out correctly and in accordance with industry standards and manufacturer requirements.
ABOUT FIRAS
FIRAS certification started in 1994 and has been instrumental in improving standards of installation of fire protection products/systems to the benefit of the construction industry and the clients it serves.
FIRAS is a voluntary, third party certification for installation contractors of both passive and active fire protection systems, operated by Warrington Certification, and accredited by UKAS to BS EN 17065.
THE IMPORTANCE OF USING A FIRAS CONTRACTOR
Fire Glass UK is a FIRAS approved, with an experienced and skilled team of installers. All our work is closely controlled and monitored to ensure full compliance with the current legislation. We are the UK's only choice for fire glass and glazing solutions and have five branches nationwide, which allows us to offer cost effective fire rated glazing products.
Fire Glass UK had to undergo a three stage assessment process before being awarded the certification, this includes:
Assessment of office management systems
Assessment of workmanship of site for all trade disciplines for which certification is sought
Competence assessment of supervisory and installation employees.
ONGOING ASSESSMENTS
FIRAS certificated contractors are subject to an annual audit of their offices and ongoing, random surveillance site inspections where competence and workmanship are assessed. The inspectors also conduct inspections of the work carried out by the certificated contractor on request to satisfy client's needs.
All FIRAS certificated contractors are required to log all work on the FIRAS online database and once complete a 'Certificate of Conformity (Compliance)' for the completed works is issued from the FIRAS online database.
THE FIRE GLASS PROMISE
We have an established trust and reputation within the fire glass industry working with clients in the Healthcare, Education, Commercial, Industrial, Hotel and Leisure sectors to bring their buildings inline with building regulations.
Our experienced team of fire protection staff are able to guide you through how to ensure your building is protected in the event of fire.
WE ARE THE EXPERTS
Let us help you on your next project. Call us on 0121 667 9089, email: info@fireglassuk.com or visit our website: www.fireglassuk.com