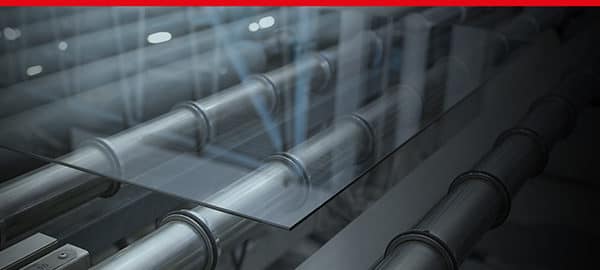 FIRE GLASS UK IS STRENGTHENING IT'S POSITION IN THE SPECIALIST GLASS MARKET
Fire Glass UK is strengthening its position as one of the UK's leading specialist glass suppliers by investing in a new Toughening Plant at its new UK Branch in Oldbury. Part of its ongoing expansion project, this latest investment compliments the current set up at the UK Branch and meets growing demand for toughened products.
Jonathon Booth (Operations Manager) said "The investment in a new furnace gives us the infrastructure to expand our production and a far greater scope to supply developing markets for the benefit of new and existing customers".
For more than a decade, Fire Glass UK has been one of the UK's leading suppliers of fire-rated and other specialist glass products and this latest investment means they are continuing to add to their specialist glass portfolio.
Toughened glass sizes are largely dependent on the size of float glass cuts and the size of the toughening furnace. The new Toughening Plant at Fire Glass UK will enable them to toughen glass from 4 mm to 19 mm with a size capability of 1600 mm x 3200 mm.
A further investment of a new CNC machine means that a wide-range of design options are available and Fire Glass UK can provide toughened pieces to most shapes. They also supply glass painted to any RAL colour.
WHAT IS TOUGHENED GLASS?
Toughened glass is made from standard float glass but is up to five times stronger (whilst being the same thickness) making it an impact resistant safety glass. The process of toughening the glass introduces stresses and tensions to the glass which increases it strength and also ensures that when the glass does break, it will break 'safely' into small blunt pieces that are unlikely to cause serious injury. It therefore poses less of a threat to passers-by and is safer to pick up and dispose of. If standard float glass is broken it will break into very sharp, hazardous pieces.
The toughening process involves putting the cut float pieces through the furnace where they are heated to above 650°C and then rapidly cooled with cold air on both sides. The glass has to be cut to size and shaped accordingly before going through the toughening process; if the glass is cut afterwards it will crack and shatter.
As the glass cools, the outer layers compress and contract whilst the inner layers are in a state of tension. The stress gives the glass increased solidity by pushing together any surface flaws and protecting the inner layers from imperfections that can lead to cracks. The process improves the structural durability of the glass which increases its impact resilience and ability to withstand heat without impacting on the clarity of appearance or light transmission of the glass itself.
WHY USE TOUGHENED GLASS?
Its increased resistance to impact and temperature variations make toughened glass suited for use in structural glazing systems where the benefits of ordinary glass need to be combined with extra strength, safety or resistance. It therefore provides a far greater scope for the use of glass in buildings from a design point of view. It is ideal for a wide-range of applications, including (but not limited to) curtain walling, stairs, balustrading, doors and partitions.
When looking at security needs, toughened glass is stronger than laminated glass and requires a far greater force to be shattered. Toughened glass achieves a Class 1C1 rating (depending on its thickness) when tested to BS EN 12600 (Class A under BS 6206). This is the highest rating for safety glass.
WHY USE FIRE GLASS UK?
All products supplied by Fire Glass UK meet or exceed all relevant standards and its toughened glass will be no exception; meeting BS EN 12600 and BS EN 12150.
Fire Glass UK holds ISO: 9001:2015 and ISO: 14001:2015 and is a member of the Glass and Glazing Federation. It keeps up to date with all industry standards and accreditations (including FIRAS, Certifire, Attestation Level 1, CHAS, Constructionline etc.) and throughout its ambitious expansion and improvement programme its core focus always remains on the service it provides to its customers and its ability to respond to their needs within the changing glass market.
Sean Haynes (Managing Director) said "What sets us aside is our customer-centred approach to business. SQS is the 'Fire Glass Promise' to all customers on Safety, Quality and Service. We are proud of our CSQ average feedback score of above 95% and we continue to work closely with our customers in terms of product development and testing."
The extended production capability will also enable Fire Glass UK to increase production of its own 19 mm and 6 mm FireSafe, a fire-resistant modified toughened product.
Sean Haynes continued "We are excited for the opportunities this latest investment will bring; the ability to expand our production to a wider variety of applications and do business with new customers whilst at the same time working with our existing customers on new products and capabilities for them."
It is clear that as a business Fire Glass UK continues to invest to allow it to meet and exceed its customers' expectations. The furnace is one of a number of new investments, in 2019 Fire Glass North (its Manchester Branch) will be moving into new, much larger premises which will ensure the company continues to lead the way in the fire-rated and specialist glass market.
In addition to its UK Branch at Oldbury, Fire Glass UK's four other nationwide Branches in Manchester, Edinburgh, Derby and Colchester supply all kinds of specialist glass products including fire-rated, acoustic, laminated, cut-glass and integral blinds.
For more information on the toughened products now available or any of Fire Glass UK's other products please contact 0121 667 9089or e-mail info@fireglassuk.com.
If you have any technical or fire test queries you can also contact Fire Glass UK at their newly launched technical email address dedicated to helping you: technical@fireglassuk.com.