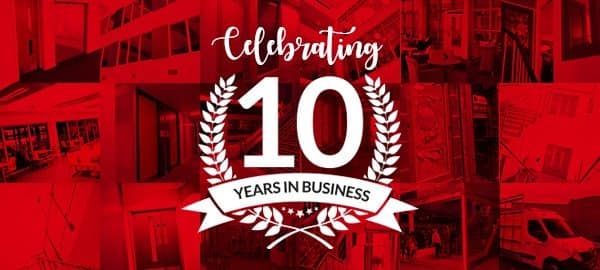 PROUDLY CELEBRATING 10 YEARS OF CUSTOMER SERVICE AND EXCELLENCE
This year Fire Glass UK Limited is celebrating its first decade in business.
Founded in 2008 as an unknown brand comprising of a single cutting bench in a corner of a small factory with just two employees we have grown into a market leader for fire rated and specialist glass employing around 100 employees. With a lot of drive, hard work and commitment we now have five successful Branches nationwide.
Some customers have been with us from the start and many have joined our journey along the way. We want to take this opportunity to say an enormous thank you to each and every one of our loyal and amazing customers, thank you for your continued support and trust in our company.
From the outset, our aim was to lead the way in fire rated and other specialist glass by providing a high-quality, competitively priced service. Our aim was simple: to provide the glass you need, when you need it and at the right price.
Throughout our first decade in business our core emphasis on customer service and going the extra mile has not changed and our customers know that our brand is one they can trust to deliver.
We have very productive partnerships with our key suppliers who we also want to thank for their continued support and commitment over the last 10 years.
Last, but by no means least, we want to thank our dedicated and hardworking team of staff who have been critical to the company's growth and success in our first decade. We couldn't have done it without you and nor can we take the next steps without your ongoing hard work and commitment. Thank you to every one of you.
A decade is a long time and we are honoured that you've stuck with us throughout. We promise that in the decade ahead, we will continue to deliver.
Thank you for ten remarkable years – we look forward to continuing our journey with you all.
Sean Haynes
Managing Director